Not all crises require suicide watch. In addition to the National Suicide Prevention Lifeline, 9 8 8, a new service is available nationally that allows individuals in crisis to text a crisis counselor, about any topic. Individuals can Text HOME to 7 4 1 7 4 1 from anywhere in the United States, anytime, for any crisis, and receive text responses from a trained Crisis Counselor.
The service also has an online platform that provides shareable reading materials about healthy ways to cope with hard stuff, including: gun violence, emotional abuse, anxiety, loneliness, eating disorders, depression, suicide, and self-harm. All the materials are available in English and Spanish.
How Does the Crisis Text Line Work?
Crisis doesn't just mean thinking about ending your own life. It's any painful emotion and anytime you need support. It is ok to start by texting, "Just need someone to talk to". Each text is limited to 160 characters. The first two responses to your text will be automated. They tell you that you're being connected with a Crisis Counselor and invite you to share a bit more.
It usually takes less than five minutes to connect you with a Crisis Counselor. When you've reached a Crisis Counselor, they'll introduce themselves, reflect on what you've said, and invite you to share at your own pace. The Crisis Counselor is a trained volunteer, not a professional. They can provide support, but not medical advice.
As you message back and forth with the Crisis Counselor, you never have to share anything you don't want to. The Crisis Counselor will help you sort through your feelings by asking questions, empathizing, and actively listening. The goal of any conversation is to get you to a calm, safe place. Sometimes that means providing you with a referral to further help, and sometimes it just means being there and listening. The conversation typically ends when you and the Crisis Counselor both feel comfortable deciding that you're in a "cool," safe place. A conversation usually lasts anywhere from 15-45 minutes.
As stated, not all crises need suicide watch. The Crisis Text Hotline provides support for crisis management, without requiring suicide alert.
You can find more mental health resources by selecting the "Mental Health" option from the dropdown tab on our Social Service "Utilization Library" page.
-AMAZONPOLLY-ONLYAUDIO-START- You can find links to the resources mentioned in this episode with the written version of this story on our website at cincinnati, dot, united resource connection, dot, org. You've been listening to the Hamilton County Ohio Social Service News, now available as a podcast on Amazon Music, Audible, Apple & Google Podcasts, iTunes, and Spotify. If you have social service news to submit to this podcast, visit cincinnati dot united resource connection dot org. Once there you can also subscribe to get a free summary of the past week's local social service news stories emailed to you every Saturday morning. So subscribe to our e-newsletter and podcast, and visit us online to discover more social service news and resources. -AMAZONPOLLY-ONLYAUDIO-END-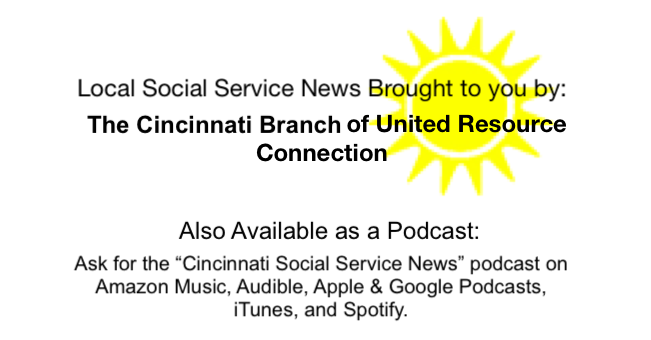 Shared by: United Resource Connection March 10, 2023