If you or someone you know is unable to pay for medications there are a number of programs that can help. The website NeedyMeds.Org has helpful information for finding programs to get FREE or low cost medication. They keep information updated on prescription assistance programs, $4 generics programs, medication coupons & rebates.
Patient Assistance Programs
Pharmaceutical companies typically have Patient Assistance Programs to provide free or discounted medicines to people who are unable to afford them. Each program has its own qualifying criteria. The Needy Meds website provides a database portal with which you can search by brand name, or by generic name, to find the right application form that matches your prescription. You can also search by program name or company name.
These application forms will always require a doctor's signature. Some of the application forms also require detailed medical and financial information, others very little. Some require the doctor to complete a portion of the form while others only need a signed prescription. Most of the programs send the medicines to the patient's home, while some send the medicine to the doctor's office for distribution to the patients, and a few send the medicine to a pharmacy or issue a certificate to the patient to give to the pharmacist. Review the application form for the details of the specific program.
Once completed, the form corresponding to your medication can be faxed or mailed to the pharmaceutical program providing the assistance; the fax and address information are located on the application form. If you need finding or completing one of these application forms, the NeedyMeds website also has a tool to help connect you to someone locally willing to help.
Note that patient assistance programs are typically for short term use, and the number of refills can thereby be limited. You may be required to complete a new application each time your refills run out.
$4 Generics
Many pharmacies have prescription programs which offer generic medications for a discounted price. Charges may range from $4 to $15 for a 30 or 90-day supply, but "$4 Generics" is a common name for this type of program. The NeedyMeds website has a portal that allows you to search for these discount programs by pharmacy name. Some of these programs require enrolling as a member and/or paying an annual membership fee, while others do not require any membership enrollment at all, so make sure to read the fine print before enrolling.
Coupons & Rebates
Many drug companies also offer rebates, discounts, or even free trial sizes of a medication. Offers for prescription medications will always require a doctor's prescription. The NeedyMeds website places a coupon icon next to each brand name drug in its database, to indicate that such a program exists for that particular medication. The website also has a portal available to specifically search for coupons and rebates by medication name.
The NeedyMeds organization also offers a Drug Discount card that can be downloaded and printed. Anyone can use the card, but it can't be combined with insurance. You can use the card instead of insurance if: your medicine isn't covered by your insurance; or if your insurance has no drug coverage; or if you have a high drug deductible; or if the card offers a better price than your copay.
[doc id=61378]
Unfortunately many physicians and pharmacists don't know about all these programs. While many social workers ARE familiar with many of these assistance programs, they sometimes have a difficult time finding specific information about program, which is greatly remedied by the NeedyMeds website.
This article was written was Stefan C. Densmore. You can find more resources related to financial assistance and medication by selecting the "financial assistance" and/or "medications" option from the dropdown tab on our Social Service "Utilization Library" page.
-AMAZONPOLLY-ONLYAUDIO-START- You can find links to the resources mentioned in this episode with the written version of this story on our website at cincinnati, dot, united resource connection, dot, org. You've been listening to the Hamilton County Ohio Social Service News on Apple Podcasts. If you have social service news to submit to this podcast, visit cincinnati dot united resource connection dot org. Once there you can also subscribe to get a free summary of the past week's social service news stories emailed to you every Saturday morning. So visit us online to discover more social service news and resources. -AMAZONPOLLY-ONLYAUDIO-END-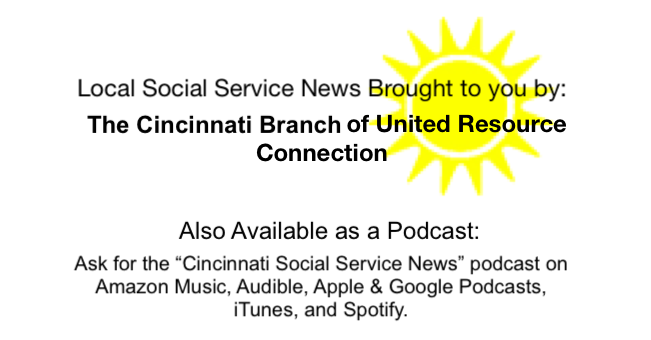 Shared by: United Resource Connection October 15, 2023