There is an updated tool for application and participation in the public service loan forgiveness program. The tool allows participants to manage their account completely online, including the required signatures by borrowers and their employers. 
Things you can do with the online tool include the following:
The tool provides a search list of qualifying employers and access to the employer certification form. That form will confirm whether you're working in an eligible job. It also generates a tally of how many qualifying payments you've made, toward the total 120 required. Like the new SAVE program, qualifying payments are based on income and family size, not loan balance.
The tool asks one to provide an email address of someone at your place of employment who can confirm your position and sign the form. Previously, borrowers needed to track down the right people at their workplaces and get a physical signature from them.
The U.S. Department of Education says the process should take less than 30 minutes if you have your W-2s or Federal Employer Identification Number handy. There is an online guide to help you with the tool if needed. Once the process is complete, the form should automatically be delivered to the Missouri Higher Education Loan Authority. That's the student loan servicer that currently handles the national public service loan forgiveness program.
It is recommended that participants in the program use the tool to update their information at least once a year, and keep records of their confirmed qualifying payments.
How to Qualify for Public Service Loan Forgiveness
There are three main requirements to qualify for public service loan forgiveness:
1. Your employer must be a government organization at any level, a 501(c)(3) not-for-profit organization or some other type of not-for-profit organization that provides public service.
2. Your loans must be federal Direct loans.
3. To reach forgiveness, you need to have made 120 qualifying, on-time payments in an income-driven repayment plan or the standard repayment plan.
The 41 months of the COVID Student Loan Repayment Pause (March 2020 through August 2023) all count toward your 120 needed payments, whether or not you made payments, so long as you remained in public service during those months. You can learn more about the Public Service Loan Forgiveness Program by visiting the program's webpage on the Federal Student Aid website.
You can find more resources related to financial assistance by selecting the "Financial Resources" category tab on our "Social Service Utilization Library" page.
-AMAZONPOLLY-ONLYAUDIO-START- You can find links to the resources mentioned in this episode with the written version of this story on our website at cincinnati, dot, united resource connection, dot, org. You've been listening to the Cincinnati Social Service News, now available as a podcast on Amazon Music, Audible, Apple & Google Podcasts, iTunes, and Spotify. If you have social service news to submit to this podcast, visit cincinnati dot united resource connection dot org. Once there you can also subscribe to get a free summary of the past week's local social service news stories emailed to you every Saturday morning. So subscribe to our e-newsletter and podcast, and visit us online to discover more social service news and resources. -AMAZONPOLLY-ONLYAUDIO-END-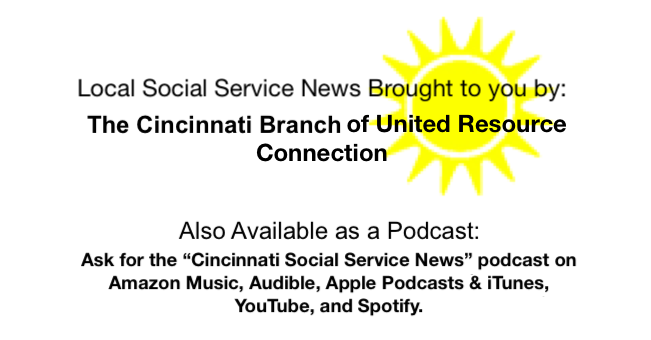 Shared by: United Resource Connection September 5, 2023